You know how much music is on my iPod? Around 7 hour's worth. Ya know how much podcast stuff there is on my iPod? Like six-frakking-hundred hours. In the spirit of appearing to be more of a connoisseur than a crazy addict, here are my top six podcasts, both about writing and not.
1. Hide and Create. This is a relatively new podcast, just begun this year, featuring Diana Rowland, Moses Siregar (also a frequent contributor to Adventures in Sci-Fi Publishing), Joshua Essoe and Jordan Ellinger. This has a similar format to the long-running Writing Excuses, each episode focusing on a roundtable discussion of one topic. Recently, they've done episodes on creating magic systems, the financial breakdown of their different careers, and Mary Sues. What makes this podcast fascinating to me is the vast differences in perspectives–the hosts include a traditionally published author, an indie author, an editor, and a tie-in writer.
2. Better in the Dark. This is a movie podcast that has an episode for everyone. My favorites are the annual Obscure Movie and Obscure Horror episodes, which (self-explanatorily) cover movies that you probably wouldn't just wander into. They've also done excellent coverage of Doctor Who, autopsies of bad-and-worse TV, and reviews of new movies.
3. Writing Excuses. This one is a classic, and for a good reason. They've been going for eight seasons now, covering everything from Setting to Chapter Breakdowns to Subplots and Wordbuilding Flora and Fauna, all fifteen minutes at a time (although I confess, I prefer my podcasts longer, which is why the half-hour format of Hide and Create is nice). And they've got big names too–Brandon Sanderson of epic fantasy, Dan Wells of horror/sci-fi, Mary Robinette Kowal of historical fantasy, and Howard Tayler of webcomics.
4. I Should Be Writing. ISBW is the first podcast I ever listened to on a regular basis, back on my white stick-shaped iPod Shuffle. It takes a lot to hold my attention for what is going on six years (goodness knows I've dumped a lot of podcasts since then) but this one stuck. The host, Mur Lafferty, began the show before she had sold a single piece of fiction, and now she has a series out from a major NYC publisher. Following her journey from short fiction to small press book to major press book, plus how she shares about her personal life (the good and bad) keep me coming back.
5. Adventures in Sci-Fi Publishing. Unlike the other podcasts I listen to, AISFP is primarily an interview podcast. I'm not usually a person to listen to interviews–it takes a lot of effort on the interviewer's part to put together a good, personal interview and also I tend to gravitate towards a few types of voices so listening to different people each episode can be annoying. But I can't even count the number of new books and authors I've discovered simply because I found their interviews on the show fascinating. Like most writers, I enjoy hearing about other writers' processes and journeys, and I get my fix here, though the real gem is the in-depth thoughts and perspectives from the various writers, agents, editors, and others who have been on.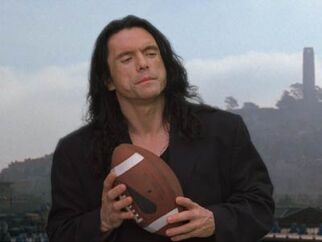 6. Tranquil Tirades. Last but certainly not least, this is damn near the funniest thing I have ever listened to. Like Better in the Dark, it's a movie podcast, but one dedicated to reviewing bad movies. Like, Catwoman and Battlefield Earth-level bad. When I worked at a public library, this was the podcast that made me laugh so hard in the children's section that I scared away a little kid. One of my favorite episodes, which covers Black Christmas, has the hosts realizing that they weren't even watching the same cut of the movie. If that wasn't enough to get you to give them a try, then ignore any misgivings you have (crazy people) and listen to just one episode. It's well worth it. They have an equally funny wiki here, which includes pages for everything from Global Warming to Eastern European Football (it's a long story. Just go with it).
Anyway, now y'all know what I waste my free time on, when I'm decidedly avoiding writing/blogging/anything productive. Come join in!